—
·
Updated:
·
Vilnius, Lithuania
·
4 Min read
Air Travel Tips After 5 Years Traveling The World
Over 50 countries and 100+ flights later, here's what I learned about flying.
Since my first flight, I traveled to over 50 countries and easily taken over 100 international flights.
Here are my top air travel tips to reduce the hassle on your next flight.
Air Travel Tips
While air travel is not the most comfortable and enjoyable experience, it's the fastest and safest way to reach your destination.
While I'm not an expert on air travel, I traveled enough to learn (mostly the hard way) how to make flying less frustrating and get to your destination stress-free.
Today, I'd like to share my top air travel tips to help you avoid the most common mistakes and make your next trip more enjoyable.
Before the Flight
Preparation is the key to the smooth air traveling experience.
Tickets
Plan early and be flexible in your travel plans. Flying on off-peak days and hours and booking months in advance can help you save hundreds of dollars.
When researching your flights, use the incognito mode so the airlines can't track and manipulate airfare pricing for you. Always compare flight pricing on different flight aggregators, I primarily use Google Flights, Momondo, Kiwi, and Skyscanner.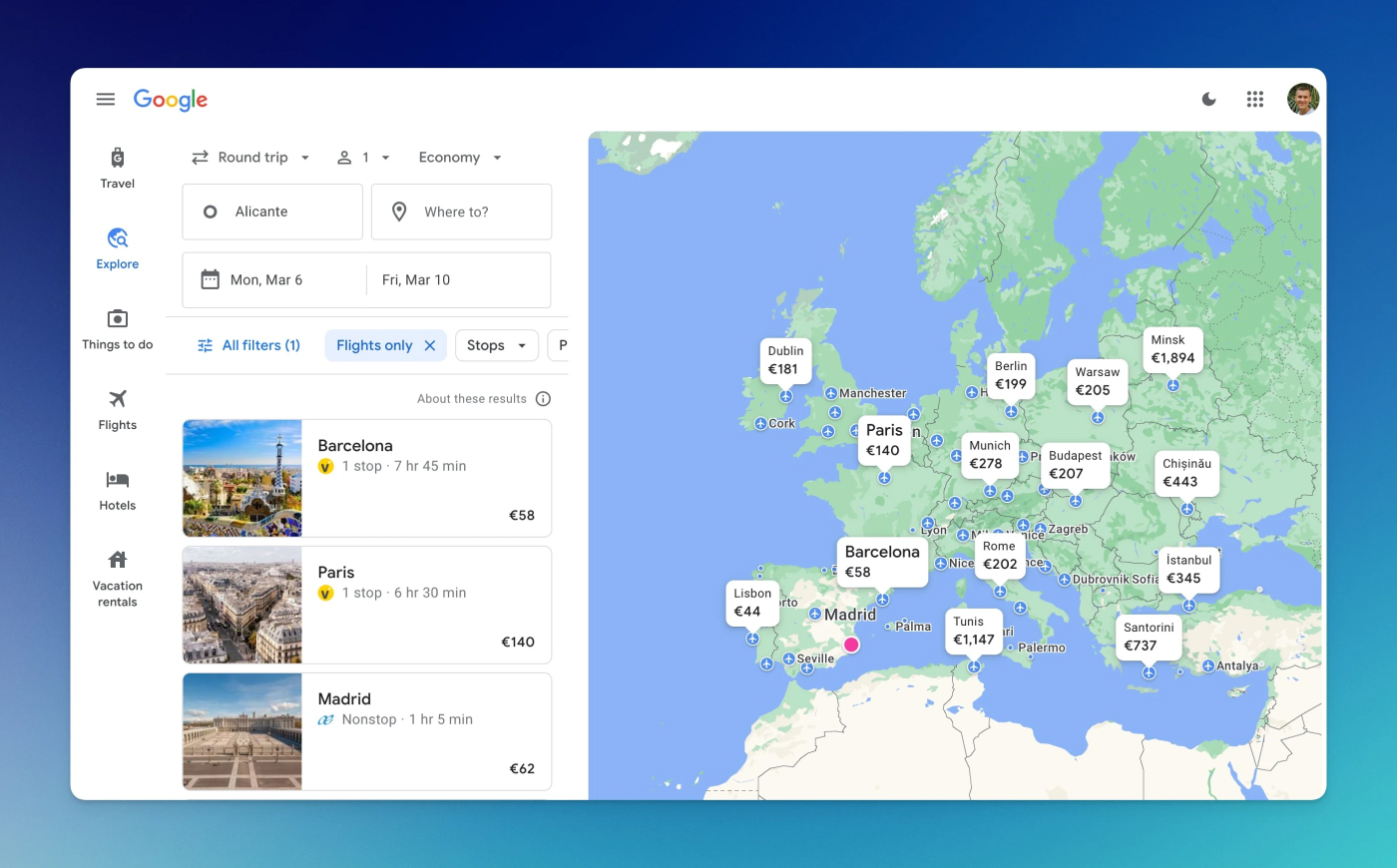 Google Flights has a nice map view with multiple destinations and pricing.
When booking your flights, make sure to use your credit card, if things don't work out you have protection from your credit card company. Depending on your credit card you may have travel insurance, delayed flight insurance and other benefits that can help you when you get in trouble.
If you want extra peace of mind, consider SafetyWing, a travel medical insurance for nomads.
When booking your tickets, opt-out for all the default add-ons: insurance, on-time arrival protection, car rental, transfers, hotel rooms, tours, seat selection, and priority boarding. You may want to get food but think twice about it if it's more than $30 as you can pack your food cheaper and most likely healthier.
Packing
Keep it light. Pack only the essentials.
Here's the secret, pretty much anywhere you go in the world you can buy everything you need. Toiletries, towels, underwear, clothes, shoes, medicine and electronics.
Aim to travel with only one carry-on bag to save yourself from headaches of packing, transporting and potentially losing your checked luggage. If you wonder what and how to pack, check out this nomad packing list for long-term world globetrotting.
Check-In
Before you leave home, make sure you check-in online and print your boarding pass to avoid standing in the queue and potentially saving yourself lots of money as some of the low-cost carriers are infamous for their hidden fees and hefty charges for checking-in at the airport or bringing a bigger than allowed luggage.
Emergency Fund
Prepare an emergency fund by having cash in dollars and euros. Scan your documents and have printed copies as well as copies stored in the cloud for easy access if you get robbed or lose everything.
Before you leave, make sure you notify your banks and unblock your cards to be used overseas (it's a tap away on mobile-first banks, more on these below).
At the Airport
Double-check your airport name and code before arriving. Big cities like Tokyo, London, New York, Bangkok have multiple airports, you want to end up at the right one.
Be Early
If you want to be at ease, leave early.
Most airlines recommend arriving at the airport 3 hours before an international flight and 2 hours before a domestic flight.
When you have time, it's easy to double or triple check your belongings, take your time to check the gate information, run to the bathroom and prepare yourself for the security checkpoint.
Don't be the last minute person running out of breath through the airport until you hear your name.
Security Screening (TSA)
Prepare for the security screening early. If you're a frequent flyer, consider becoming a member of one of the trusted traveler programs (Global Entry, TSA Precheck, SENTRI, NEXUS, and FAST).
Put all your liquids in one sealable plastic bag no more than 100 ml in one container and no more than 1000 ml in total. Have it easily accessible.
Prepare your laptop.
Don't wear jewelry, watches or belts.
Empty your pockets.
Put everything in your carry-on bag and only keep your passport and boarding pass in hand.
Know Your Rights
If your flight got delayed by more than 3 hours, canceled or overbooked, you can claim compensation.
Airlines are required to compensate the passengers but the whole process is so messed up that most people are not aware of their rights or just don't want to bother with the paperwork. In this case, you should get professional help.
Last year, my wife and I were denied boarding a plane from Chile to South Korea with a connection in Spain. The airline failed to explain the reason and was giving all kinds of excuses.
"You can't check in anymore."
We were at the check-in counter 1 h 20 min before the scheduled departure.
"You need eVisa for South Korea."
Such a thing doesn't exist. Finally, they were asking for the trip plan and all booked tickets for my wife, which we didn't have.
The story ended badly.
We were denied to board and missed our flight to Madrid where I planned to celebrate my friend's birthday on a day-long layover and our flight to Seoul.
I was furious. The airline was rude and ignorant. I don't recommend flying with Iberia Airlines, which not surprisingly has really bad ratings (1/5) on Trustpilot.
The first step I took right after was to ask if they can get me on the next plane, they didn't offer any compensation and I decided to book a flight with Delta the same day, instead.
After we got to South Korea, I was looking at how to file a complaint. I submitted a form on Iberia's website and waited. One year later, I still heard nothing from them.
While all of it sounds like a horrible experience, there are things you can do. Even years after.
With AirHelp you can claim delayed flight compensation in the EU if your flight has been delayed, canceled or overbooked within the last three years. With AirHelp, you can check for free if you're eligible for compensation.
Once we reached our destination, I reached out to AirHelp and felt like someone cared about my case. After submitting the needed documents and explaining the situation, AirHelp regularly updated me on the process and took legal action in a Spanish court on my behalf. While I'm still waiting for the compensation, it was a surprisingly enjoyable experience to deal with legal people.
During the Flight
Don't be rude to flight attendants or other passengers. Everyone is just trying to get to their destination. It's annoying when someone thinks they're the most important person on the airplane.
Hygiene
Don't take off your shoes if your feet smell bad (most likely they do to everyone except you). If you want to take off your shoes, pack a new pair of socks and put them on.
Take a shower before the flight, use some perfume (you can get these free sprays in duty-free shops before you board the aircraft) and ideally have a small bottle of perfume to spray on yourself during the flight.
A packet of wet tissues can serve as a quick shower giving you a fresh feeling.
Food
Avoid smelly foods.
Once, I was flying from Copenhagen to Bangkok and wanted to save some money by packing my lunch.
My mom made delicious sandwiches with salami and smoked sausages (they taste divine) but opening my treasure on an airplane made everything smelly (these sandwiches spent solid 12 hours in a plastic bag). I learned that it's not the best food to bring on the plane, neither McDonald's or KFC chicken.
Airlines usually serve crap food, if not the portions are very small. To avoid getting hangry, pack some fruits (apples, bananas, grapes), nuts and crackers. Make sure you have water, buy it before boarding or bring an empty water bottle and fill it after you clear the airport security scans.
Don't Use the WiFi
You don't need WiFi up in the air. For two reasons mainly.
It's slow and unreliable.
Give yourself a break and disconnect. The world can wait.
Spend your time in an airplane mode, review your photos, read, watch your favorite shows, listen to podcasts, journal. Here's my list of productive things to do when you're bored.
Entertainment
Most of the long international flights offer in-flight entertainment: music, movies, TV series and games. While high-end airlines have great systems and comfortable equipment, most airlines have low-quality headphones (sometimes costing extra) and movies you've already seen.
Prepare yourself and load your favorite Netflix shows (you can do it on your tablet or smartphone), download Spotify playlists for offline listening, sync your saved articles on Instapaper or Pocket and download your Kindle books for offline reading.
Before leaving home, make sure you have all your electronics fully charged. Fully charge your power bank, if you have one.
Rest
There are only two types of people in the world. People who can sleep on planes and people who can't. I'm the latter type and if I get to sleep a couple of hours on the plane, I feel accomplished.
However, there are some things I learned that help me to rest better on either domestic or international flights.
Rest well the night before.
Don't drink alcohol.
Don't drink too much coffee.
Drink water but not too much (you don't want to wake up every 30 minutes to visit the bathroom).
Make yourself a Valeriana shot.
Pack a sarong or a blanket.
Have a pair of comfortable socks.
Put the sleep mask on to avoid light.
Use comfortable earplugs or noise-canceling headphones.
At Your Destination
Better have everything prepared before you get to your destination. Improvisation is fun but you might be sleep-deprived, dehydrated, dirty and hating everything. Better prepare and thank me later.
Jet Lag
You'll have to suffer jet lag. The goal is to suffer less.
If you can, arrange a pick up at your destination to avoid unnecessary stress figuring out how to get to your hotel room or Airbnb.
Whatever you choose to do, try to adjust your routine to the new time zone. If you go to bed at 10 PM at home, do the same at your destination no matter how sleepy you are throughout the day.
Drink lots of water.
Do some light exercise.
Sleep in the dark, put a sleeping mask if needed.
Cash
Don't use money exchange offices at the airport. You can get some cash from the ATM but don't exchange your cash at the counter as the rates are horrible. To save money on international travel, get one of the cards with low or no foreign fees. I use Revolut and Wise.
Everything is Figureoutable
Embrace the change, the uncertainty, the chaos.
Ditch your expectations and accept everything coming your way. If you're in the right state of mind, everything becomes an adventure. Shit happens and you can't do much about it. What you can do is change your attitude.
Everything is relative and a missed flight can turn into an unexpected journey and a fun story.
If you find these air travel tips, share them with your friends and family.