—
·
Alicante, Spain
·
4 Min read
Growthlog 1: No more bad days, levers and simple truths
Hi! Tom here from 🌵Growthlog.
Some quick updates:
My teammate, Ane Wiese, the SEO Marketing Manager at saas.group, interviewed me for her Q&A series.
I shared my tech stack, lessons learned during recent product launch, and advice for marketers with limited budgets. Thank you Ane!
I recently purchased the Explain Ideas Visually course by Janis Ozolins.
To my surprise, he's also based in Alicante, so we met up and had a great chat about freelancing, creative struggles, and building an online presence.
He's a really cool guy! Here's one of his illustrations.
🚲 50 First Leverage Levers. Learn about the main four types: tools, products, people, and capital.
"Created a decision journal template, asking questions of myself about big decisions I'm making so that I can come back and see how I did."
🤔 100 Simple Truths. Traf shares some punchy modern philosophy one-liners.
"Life is too short to not be pursuing the best opportunity you know of."
"A question opens the mind, a statement keeps it closed."
"You can either build your dream, or help someone build theirs."
🛠️ How to Do Great Work. A dense and deep piece by Paul Graham.
It took me hours to read since I was stopping to take notes and reflect on my own journey. If you read only one blog post this month, read this instant classic.
"The factors in doing great work are factors in the literal mathematical sense, and they are: ability, interest, effort, and luck. Luck by definition you can't do anything about, so we can ignore that. And we can assume effort, if you do in fact want to do great work. So the problem boils down to ability and interest. Can you find a kind of work where your ability and interest will combine to yield an explosion of new ideas?"
🤯 100x Faster Than Wi-Fi. Li-Fi, light-based networking standard released. Boasting speeds of up to 224 GB per second.
🤖 ChatGPT in Google Sheets and Docs. A powerful and free add-on to use GPT natively in Sheets and Docs. Just add your OpenAI API key.
🙅‍♂️ No more bad days. AI is going to beat most people's average performance eliminating the random fluctuations of organic life.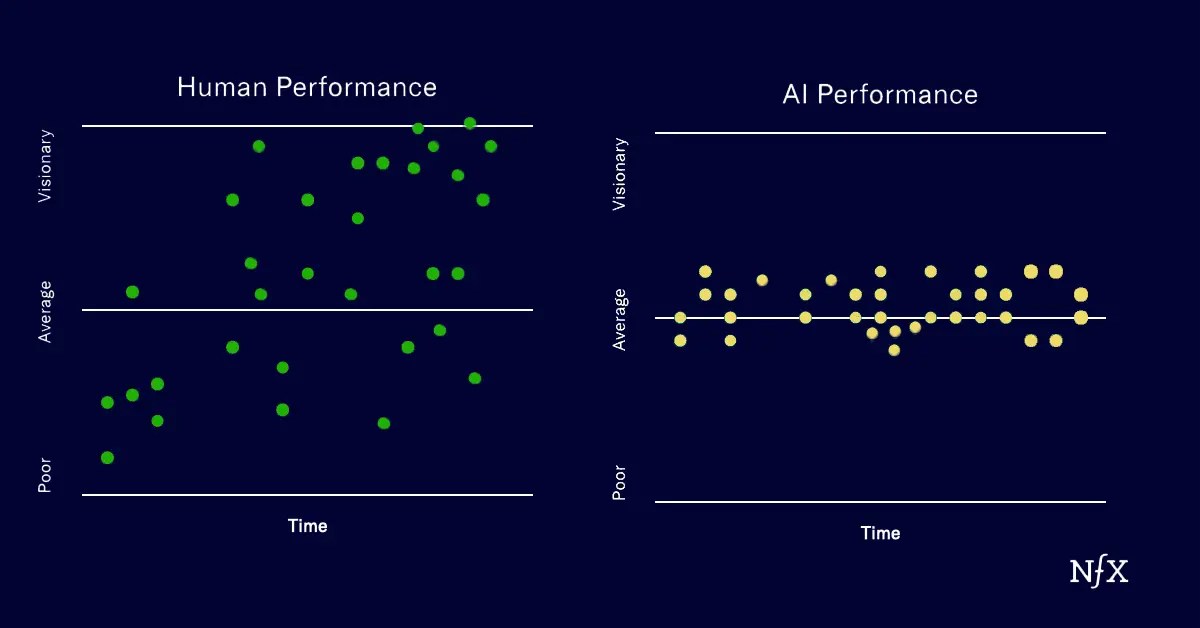 AI is going to outperform most humans, on most hard skill tasks, on most days. Source: NFX.
---
My Projects
✍️ Best Writing. Connecting writers with job opportunities.
Together with Edgaras, we're working on implementing our data-drive approach to sourcing hundreds of jobs daily instead of relying on manual curation. Due to time constraints and lack of technical knowledge it takes longer than anticipated.
🪄 Draftpen. Writing assistance, editing, and content generation tools.
This weekend project needs updating and some bug fixing. New people keep signing up.
✈️ Port Surfer. Organizing world airport information.
My programmatic SEO playground. Now rebuilding it from scratch with Next.js and Google Sheets. Getting close to being able to publish 1,000x more posts than before.
I enjoy meeting creators and fellow founders.
Feel free to respond and introduce yourself or tell me more about your projects.
Now is the time to invest in yourself, to build, to ship, and to grow. 🎰🔨🚢🌱
Sent from my desk in Plaza Santa Teresa, Alicante, Spain. ☀️